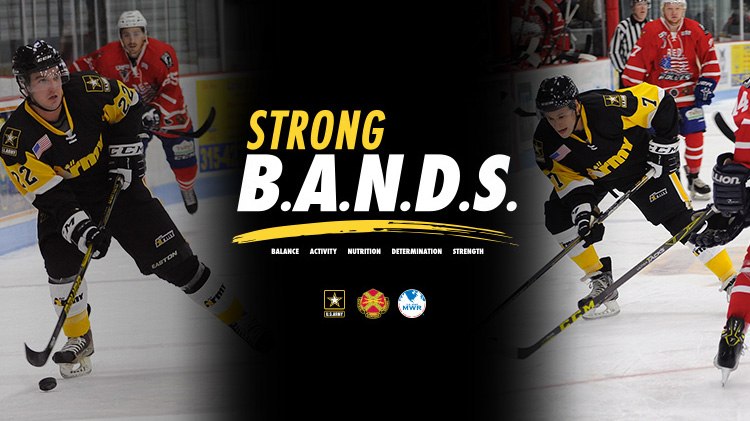 Make positive changes in your health during May with Strong B.A.N.D.S.
Strong B.A.N.D.S. – Strong Balance, Activity, Nutrition, Determination and Strength – promotes healthy, active lifestyles for Army communities. Throughout the month, it motivates Army Soldiers, Families, Retirees and Civilians to get and stay fit.
There are lots of ways to get involved! Participate in garrison fitness and wellness programs. Learn about health and fitness topics with our online resources. Make our nutritious recipes at home. And don't forget: share your news with friends and family, and invite them on the adventure, too!
HUMPHREYS STRONG B.A.N.D.S. ACTIVITIES
Throughout the month of May: Story Walk at the SFC Ray E. Duke Memorial Library

May 10: Tabata GX* at Zoeckler Fitness Center from 11:45 a.m. - 12:45 p.m.

May 17: Functional Fitness for CYS-registered Youths at the School Age Center from 3-4 p.m.

May 19: Murph Challenge** at the Collier Community Fitness Center from 8-11 a.m.

May 26: Bungee Jump and Slingshot with Outdoor Recreation***
*Tabata GX is interval training that provides cardio and strength for a full body workout. Backed by research, the workouts have the same benefits as a longer but steady workout, like running for half an hour.
**The Murph Challege is an ultra-intense workout to honor Lt. Michael P. Murphy who was killed in 2005 in Afghanistan. The challenge includes a one-mile run, all wearing either a 20 pound vest or body armor.
***Register with Outdoor Recreation by May 22, 1 p.m.