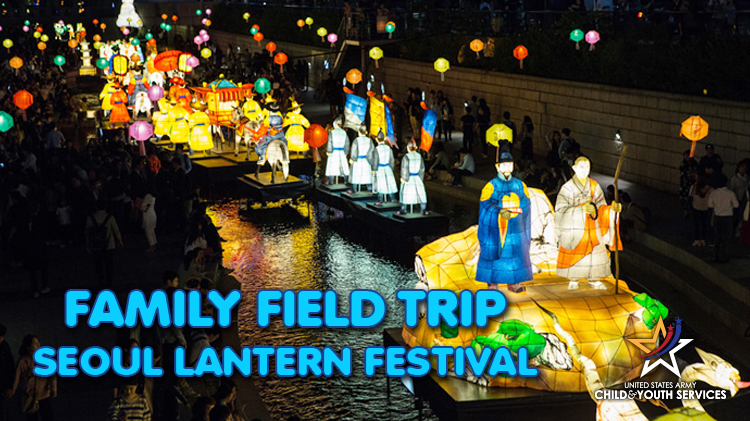 CYS Family Field Trip - Seoul Lantern Festival
Date: Nov 9 2019, 2 p.m. - 10 p.m.
Parent and Outreach Services - Marne Avenue Bldg. 6400 (Map) Google Map
Established in 2009, this annual festival features hundreds of lanterns that decorate the Cheonggye Stream in Seoul all the way to the Supyo Bridge. Every year, nearly 3 million visitors visit the 1.3km path and features various things to see along the stream-side.
Learn more about this location on the KTO webpage.
(Third party website. No federal endorsement implied.)
Cost
Includes transportation only.
Families with 1-2 children: $10
Families with 3 or more children: $15
Families are responsible for any entrance fees, food and miscellaneous expenses.
Registration Info
Registration Deadline: November 1
Minimum of 30 participants are needed to attend each trip. If the number registered is less than, the trip will be cancelled. Registration and payment can be done at Parent and Outreach Services. Youth must be currently registered with CYS in order to attend these trips. The bus departs from Bldg. 693.
Contact
Military DSN Tel:

(315)757-2250/2254